This Life, and
Sharpe. (Specifically Sharpe/Harper)
While looking for Sharpe/Harper fic with Shem found this truely hilarious fic:
Its the first one on the page called "Here Piggy Piggy"
Click If you Dare!
Fandom: POtC, LOTR, BHD, 28 Days, Bravo Two Zero, Xena/Iliad.
Characters: Will Turner est. age 18 (Orlando Bloom), Éomer Eadig est. age 20 (Karl Urban), Hoot Gibson est. age 24 (Eric Bana), Eddie Boone est. mid 30's (Viggo Mortensen), Andy McNabb est. early to mid 30's (Sean Bean), Sarpadon est. mid 20's (Craig Parker)
Summary: Popular Will is celebrating his 18th birthday. All his mates are coming. Soon things get a little out of hand and it's time for the darling of the little town to make some choices of erotic character...
Set in 1989! O_o
It's so bad, its funny! All the characters end up pairing off, all of them in love with the character that they paired off with.
Ahahahahahaha!
Two new loves
Current Mood:

giggly


On Friday, the 9:57 (the last bus i can take) never turned up. I ended up flagging down a taxi to get home from work.

Monday the 8:16 never came and the 8:57 was 7 mins early. Lucky I was at the bus stop at the time!

Tuesday the 8:57 decided not to turn up, so I decided that I would walk home. That was a nice brisk 4.5k walk!!

(Yesterday doesn't count as I took a cab home, cause I got out of work late and definately no bus to get me home)

I rang in a complaint to the RTA on Tues because of Friday. If they don't ring back by tomorrow am definatly going to harrass them!
For once the Bus that I was waiting for came, and it was on time too!
Current Mood:

surprised

Current Music:

radio in background



*waves streamers*



No you can't call me obsessed.



Not at all...



Not really.


Maybe;


(this is coming from me, a person who watched the DVDs of the first season of SVU in about three days...)
Tis Christopher Meloni's Birthday today. At least it will be for another minute!


But then there's not much of that left either.

When I went to the Easter Show on Good Friday I aquired a Siamese Fighting Fish. It's bright blue... And it needs a name! i would have a picture, but mum and dad have the camera!

For some reason I want to name it Bob. But I am resisting at the moment!

On another matter. Am not going to the Easter Show on Good Friday again. Ok, I wont go when school holidays are not on at the same time as the Easter Show. The amount of people there... O_o

I think that it's funny that about three or four people tried to convince me against going by myself. I enjoy going by myself, as you can see everything that you want and don't have to answer to anyone!
Have finished the last of the scotch. Which actually wasn't that hard, because there wasn't that much left! I say on to the rum!
Current Mood:

energetic


Sorta...

Christopher Eccleston is quitting Doctor Who after the first season. Because he is afraid of getting type cast.

Hahahahahahahaha...

I think they should have kept with Paul McGann *swoons* (No, am not biased at all!)

Poor Doctor, he's quite quickly running out of lives!
Its funny actually.
Current Mood:

lazy
When going shopping, always expect the unexpected....

I hate being an impulse shopper. I sometimes do come away with the most unexpected things. One also cannot resist a sale. That is why I go crazy when Borders has the 20% off for students (just ignore the fact that I may not be a student, but I still have my card.) And I come away from there with $300 -$400 worth of Books and DVDs.

Well, I went shoe shopping today with Mum and Dad, as I was looking for a new pair of runners. One thing that I was specific on, was that the majority of the shoe couldn't be white. For some reason I do not like a white running shoe... I did end up buying a pair, the major color being grey... Also I got a nice pair of brown casual shoes. Felt quite energetic, so my third purchase was a netball. It has been in my head for quite a while that I should start shooting practice up again, it'd give me the chance to do a bit of running around, which I tthink is what I need.

Then the impulsive me kicked in. On overdrive, I think...

Have kicked around the idea for a while of getting a new exercise bike. Not the one where you perch up on a bike seat, but one where you sit down on a seat and peddle. (I have no idea what they're called.) There was one there that I really liked. So I bought it. *cough*

Yes, crazy, I know. But I am most likely going to use it at home, than try and go to a gym that I can easily avoid...
Current Mood:

calm
And I may not for some time yet!
For people who have no idea where Yamba is ...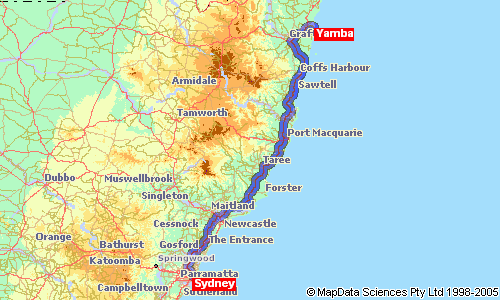 Not the greatest pic around! It took around 9 hours to get up there.
I really enjoyed the break...
Have just now remembered that I need to find out what is usually rotated with Sugar Cane...
More on things when I can think coherently.
Unlike previous times, when I just plain avoid the net... I have actually been away! Spent the week up at Yamba with Shem and her parents.
Current Mood:

crappy

Current Music:

Creeper, Schwartz Stein


Didn't feel patriotic at all! I don't think most Australians are that patriotic at all... Maybe only when it comes to sport??!!

Edit: Or it could just be another excuse for fireworks
It is quite a weird feeling having a public holiday in the middle of the week. I kept refering to today as Sunday!
Current Mood:

apathetic

Current Music:

Electric Cucumber, hide


Forgot to say that I went and watched the SpongeBob SquarePants movie on the weekend. I enjoyed it, but then small things can quite easily amuse me! Am not sure why I like SpongeBob so...

Was going to write some more, but at the moment my brain is not being coherent. Off to watch Mon Oncle.
Can I say that I am very glad that it is the end of the week?? Well I guess that I just did! I may just have to mention it again later on.
Current Mood:

tired